Looking for the best AI personal robots? Here's a comprehensive guide for you.
Security, agriculture, healthcare, and space exploration all benefit from robots. Robots are used in a variety of industries, including the TV and film industries.
Robots assist in holding the camera as many takes of the same scene are taken from the same viewpoint.
Robots are also useful for filming exciting action sequences that produce top-notch content for the audience. By making action scenes realistic, it delivers in-home entertainment and gives inanimate objects life.
Together with the advancement of technology, robots also provide enormous audience draws. If you examine its technology closely, you can see how people envision interacting with robots.
It has enabled the development of the human mind by making the world of human imagination a reality.
Robots captivate people greatly, and why shouldn't they? People want their work to be finished as fast and easily as they can.
With the way artificial technology is advancing, it seems the future belongs to robots and artificial intelligence.
That is now a common occurrence in our daily lives. Every day, new robots are being created, and they are becoming speedier and more effective.
It is astounding to observe how rapidly these technologies have transitioned from future concepts to models aimed at and accessible to common people given the phenomenal rate at which the area of robotics is growing.
AI-Powered personal robots are predicted to be the next big thing in home technologies, and these ground-breaking products are now making their way into the public market.
When we strive to keep up with our houses' never-ending demands, we all experience the same level of agony.
AI Personal robot helpers can make life more comfortable by assisting with routine household chores. These cute little friends have a variety of uses, from education to reducing your workload at home by increasing efficiency.
They enhance the smartness and technological advancement of your home and are also incredibly cool.
Certain populations, such as the elderly or the disabled, who require more assistance and support than others, find personal robot helpers to be even more useful.
The Assistant Personal Robot (APR) is a remotely tele controlled robotic platform created for people with modest cognitive disabilities to offer social and assistive services.
There has been an increase in domestic and personal robots that are intended to assist with household chores in recent years.
These domestic robots can be employed for several tasks, including cleaning, companionship, and even vacuuming.
What is a Personal Robot capable of?
Robotics is not just used in TVs and movie theaters. Robots are always in demand and can be employed for personal gain. The following are some benefits of owning a personal robot: 
Being a machine, an AI personal robot won't ever get tired or need a break. It will be prepared to deliver timely work when you need it.
It will guarantee excellence and increase your productivity in more important work.
Robots develop by picking up new skills and adjusting to their environment.
Personal robots will educate you while remaining indifferent to your needs. It will be obedient and wait patiently for your instructions.
It can efficiently perform household tasks for you, like cooking and house cleaning.
Robots can work in dim light, protecting your eyes from strain.
Robots are intelligent because they have incredibly sophisticated programming. The ability to interact with the outside world is one of an AI personal robot's best and most distinctive attributes.
It is extremely capable of adapting and perceiving its environment. The best illustration of such a robot is a self-driving vehicle.
In addition to this, practically all space programs include robots. On a spacecraft, robotic arms can easily move heavy objects.
Robots are also capable of bringing information about the surface of another planet and giving it to the operator in a matter of seconds.
Features That I Use To Determine If an AI Personal Robots Is the Best for Human Use
Patrol mode that aids in keeping your house safe.
Availability of temperature, humidity, ambient light, air quality, GPS, noise level, pressure sensors, etc, which can help keep an eye on your house.
To be able to create engaging educational experiences using sound, graphics, and movement. 
Ability to be able to manage multiple attached devices. 
Ability to organize your calendar and to-do list.
To be able to easily recognizes each family member and modify preferences as necessary.
To be smart enough to easily navigates across difficult spaces.
It has to have a tabletop base that attaches.
It has access to traffic updates.
It can read stories to your children before bedtime.
Helpful Content: Best Smart AI Gadget to Live a Smart Life
Best AI Personal Robots
Now that you have an idea of the features that I use to select the best AI personal robots, here are some of the best personal robots you can buy right now that are dominating the market, given what we currently know about the advantages and characteristics of a AI personal robot.
They can be used as everything from educational tools to virtual pets, as well as to serve the healthcare industry or just make consumers happy.
1. Miko 3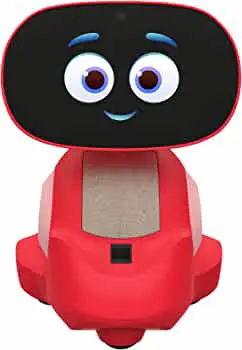 For kids aged 5 to 10, there is a personal robot called Miko 3. It offers a comprehensive homeschooling tool using artificial intelligence. Additionally, Miko 3 can crack jokes, react to the user's emotions, and make video calls.
Miko 3 may also learn more about the user and modify its programming as a result of its AI capabilities. The best technologies will be utilized, and young brains will be developed through education. 
Miko has created the Miko 3 robot, which uses artificial intelligence to encourage the study, educate children, and amuse them. It displays and responds to your emotions in the same way that a living thing would. Miko can dance, make you laugh, and lift your spirits.
Miko will get to know you better the more time you spend with it, and vice versa. It will modify itself to fit your needs. Miko also offers you the privacy you require and is secure.
Additionally, it offers unrestricted access to video calls so that parents may stay in constant contact with their children and monitor their emotional development.
2. Lovot
The Lovot, a companion robot that is "Powered by Love," was created solely to make its owner happy.
The Lovot robot has a very high level of emotional awareness, which allows it to be a kind friend, recognize and react to moods, and figure out how to make its owners happy.
The precise goal of Lovot is to build a robot that makes people happy. It is designed to create a setting that resembles that of a live thing. Its head is equipped with a sensor horn for detecting its surroundings.
The robot can produce life through a robot thanks to its more than 20 MCUs and more than ten CPU cores.
A supercomputer is mounted inside Lovot Robot to enable decision-making and action. This serves as the robot's brain and is equipped with more than 50 sensors.
When required, it can perform magnificently. It is lightweight (a little over 4 kg) and simple to maintain.
Lovot is designed to behave in a friendly manner. Lovot can sense your mood and will make every effort to make things better. It has proven to be a wonderful companion, and it may make you happy and give you back your lost energy.
3. Aibo
The ultimate virtual pet, Aibo, is a wonderful illustration of how far this area has advanced. This AI robot puppy is very inquisitive, playful (and comes with its small toys), and amiable. In actuality, the Japanese term for "friend" is "aibo."
It can travel around your house on its own, and when it's with you, it can play, communicate, and pull pranks. Additionally, your Aibo's facial recognition software will enable it to recognize its owner's face over time in addition to allowing it to interact with people. 
One of the most inclusive and intelligent family companion robots on the market right now is named Aido. As a mobile, intelligent, and social family robot of the future, Aido can move around your house or workplace to enhance your quality of life.
Playing with your children, assisting you with scheduling, projecting movies and useful videos onto walls, serving as a gaming console and entertainment center, managing household chores, monitoring your home via sensors and patrol to keep it safe and secure from intruders as well as invisible air quality issues, and much more are just a few of the things it can do for you.
The family robot is made to interact with people in a natural way and also intuitive as possible.
4. Vector Robot
A Vector Robot is a cutting-edge robot with artificial intelligence. More than simply your friend, it is. It can give you all the information you request and is independent. 
With its special sensors, the Vector Robot can sense its environment, avoid obstructions, give you weather updates, and even snap pictures. It can determine the direction the music is coming from thanks to its four microphones.
If you don't want to be late for work or eat food that's been overcooked, it can even set a timer.
To meet consumer needs, Vector Robot uses cutting-edge technologies. It only needs a small area to fit itself in and charge up. This one is intended to be a mobile robot that explores its environment without restriction. The Vector will respond to your queries and carry out your orders simply by saying that.
5. Astro Robot
The primary function of this Amazon Astro Robot is domestic use. Connecting with Alexa keeps you and your house connected. The robot uses cutting-edge navigation technology to find its way around and become acclimated to its environment.
When you are gone from home, Astro will notify you if it sees an unfamiliar individual or hears any strange sounds. Astro makes sure you're always linked to your house remotely. Astro will obediently carry out your instructions and set vital work reminders.
 6. EMO
The EMO is an inquisitive, entertaining tiny AI desktop pet made by Living AI. It is intended to be an entertaining companion for office employees that will explore its environment on its own, listen for sounds, recognize faces, and exhibit its distinct personality.
You can also utilize your EMO's built-in voice assistant to ask inquiries and watch it dance while taking breaks from work.
The latest generation of AI robots with personalities and ideas is called EMO. With its reliable sensors and cutting-edge technology, the robot can react with more than a thousand different facial gestures.
EMO will go to any lengths to lift your spirits. It will dance, play music, and provide gaming recommendations. EMO is more than just a friend. It has various cutting-edge features like a pet and will never fail you. In a nutshell, it can converse with you as well as feel, hear, sense, and touch.
It can decide for itself and aids in bringing any discussion to a close. EMO's character develops as a result of its environment and your interactions with it. EMO is aware of his surroundings thanks to sensors and processors that are integrated into him.
The robot processes a vast amount of images and sounds with the aid of powerful AI.
7. ROYBI
The intelligent robot ROYBI provides kids with top-notch educational content. It provides more than 500 courses covering communication and language skills, critical thinking, and problem-solving.
Learning is made engaging and natural thanks to this robot. It is an interactive toy for kids that provide them with unique lessons. You may give your children convenient access to games and instructional plans. This gives you access to a huge collection of educational music, tutorials, and other content.
You can watch your youngsters and make enjoyable memories with its 1080p camera. It has a two-way audio system. Additionally, it provides reports generated by AI regarding new words acquired, proficiency levels, pronunciation, etc. Your child is recognized by its face-detection feature.
8. Eilik
Small companion robot Eilik personifies the company's tagline, "tech with heart." The robot is intended to be a small household friend with an endearing personality and insightful emotional responses. 
The shared character of its interactions with you is another feature that distinguishes it from other things. Eilik, for instance, dislikes being picked up unless you are the one doing it. 
It is a tiny robot that communicates its emotional and physical states to you. Both vibration and touch have an impact on it. Eilik stays in one spot rather than moving about your house.
It is a robot with a high emotional quotient and cognitive level that contributes to more advanced peer interactions. Your surroundings with Eilik make life seem more pleasant and manageable.
You can't hold Eilik over the ground without it becoming unstable. It is like being safe in your hands and above the ground. It will make you feel better by doing everything a friend or family member would.
9. Moxie
Moxie is a personal robot powered by AI that was created with children in mind. Children can interact, play, and express their emotions. Children can learn to develop and nurture their emotional and interaction abilities at home by listening to Moxie carefully, which will help them develop good connection skills.
When your youngster goes out in public, they'll come across as fearless and self-assured. When you are not present, it might act as a mentor for your youngster.
Moxie will instruct the child in a friendly manner using explanations and problem-solving techniques.
It raises queries and kids' interest in learning about unfamiliar concepts. Along with helping your kids learn, Moxie also promotes physical development and helps them keep a playing routine.
The objectives of both parties will be met by encouraging youngsters to participate in various activities with Moxie every day.
10. Winky
Winky is yet another distinctive personal robot for kids. Children between the ages of 5 and 12 are the best candidates. However, adults can also use it. It thinks that kids may learn while having fun. With its two free game applications, it educates children.
Winky can serve as both a mentor and a guide for your kid. It can be used to set alarms for significant chores that you and your kids should do. Your kids' productivity is also increased.
Some video games are made to enhance reflexes and mental capacity.
Winky appeals to kids because of its design. Winky can be further customized by the kids themselves with add-ons for its nose, ears, and body. This makes sure that kids are always near the robot and absorb all the knowledge it offers. Winky's biggest characteristic is that new versions with new features are always being released.
11. Willow
Willow is a versatile robot that is propelled by a powerful AI created by Eeve. Willow is the best choice if you want to develop yourself in the areas of talents and personality.
Willow possesses the Toadi tool. It can be used to cut the overgrown grass in your backyard and operates as an independent robot. Using the Starlight app, you may instruct Willow while working at your own pace and convenience.
Willow is entirely under your control, and you may keep an eye on its actions and teach it new orders.
Additionally, you can continuously incorporate new tools to make your task easier. In three years, a user should be able to add up to 60 distinct tools, according to estimates.
12. Loomo
A Loomo personal robot owned by Segway has a powerful AI that can avoid obstacles. You can ride Loomo as your transporter. It can also be managed with voice commands and hand gestures. You can travel on its simple, self-balancing transporter with ease.   
By interacting with the Loomo app, you can discover what it's like to be a Loomo. The Loomo app's best feature is that it consistently creates original content, also regular updates, free Android SDK included.
It is a versatile robot. Even on uneven surfaces, you can ride the Loomo robot with ease. A self-stabilizing gimbal on Loomo keeps track of the robot's movement and maintains its stability. The smooth capture of photos and videos is the outcome of this.
What branches of AI are applied in robotics?
You've probably seen videos where a person asks a robot to bring them water, and the robot navigates to the kitchen, grabs an empty glass, fills it with water, and then brings the glass back to the person who asked for it.
This is one of the more straightforward instances where robotics and arguably the hottest area of AI, called Reinforcement Learning, are combined.
Reinforcement learning is quite intuitive to how people learn, which the key to adopting this AI is. It relies on the idea of assigning circumstances to courses of action to maximize a numerical "reward" signal.
I'll give you an example of human learning to clearly explain something as demanding mathematically as reinforcement learning.
Take the example of a person learning to ride a bicycle. We haven't been "trained" how to ride a bicycle if you think about it. We simply made a few mistakes and eventually learned from them.
When we fell, those were our "rewards" with a "negative" value; when we didn't, those were our "positive" rewards. Ultimately, we learned how to ride. The paradigm for reinforcement learning is the same.
Deep Reinforcement Learning, which is reinforcement learning taken a step further, is another incredibly hot area of AI research. In contrast to RL, where we define incentives for the set of behaviours, even the reward signals in this case are self-attained by the computer.
What this statement is trying to say is that robot learns through exposure. 
I should point out that the same challenge also uses reinforcement learning along with AI fronts like computer vision and natural language processing.
For example, if a robot was to bring you a glass of water, it would need to understand that you said "I want a glass of water" or "Fetch me a glass of water" (and that these two sentences have the same meaning even though the speech don't have the same tone!).
Finally, using robotic eyes, it must navigate to the kitchen, locate a glass of water, pick it up, observe the water level as it is being filled, and finally find you on the way back.
That is all computer vision.
Therefore, it can be said that robotics uses a combination of reinforcement learning, deep reinforcement learning, natural language processing, and computer vision.
Hey, This AI Robot Vacuums does the hardwork of cleaning for you
Wrapping Up On the Best AI Personal Robots
The future is robotics and currently, robots are gradually and slowly taking over all the menial chores, including lifting enormous weights and performing role tasks for long periods.
Wherever location humans can't go, some robot can access that location.
They can use hazardous tools and labor in perilous conditions, clean locations where humans would never even consider going, construct a whole building from the ground up in a matter of days, and communicate remotely with a few clicks from a distance of a million miles.
Therefore, if they are used wisely, robots can be the best friends of humans. People are becoming more efficient and competitive at the same time. As a result, you should think about getting a personal robot to make your life easier.