AI robots are the artificial agents acting in the real-world environment and these AI robot toys will provide numerous benefits for children's development and teach kids about STEM [Science, Technology, Engineering, and Mathematics] or other subjects like history or geography.
With advancement in the science and technology, AI powered robot toys are a great thing that assume kids in order to develop the kid's communication skill by offering them thousands of activities.
These AI robots are great way of teaching children because they are interactive and engaging and it also provides an opportunity for children to learn through play which is a more natural way of learning.
They can recognize the kid's face and voices. They can also respond the kid by calling them their name with emotion and even make fun with the kid by joking and dancing which increases the kid's happiness.
Without further ado, let dive into the best smart AI robot toys that will help improve the learning and communication skills of kids.
Helpful Content: Best AI Smartwatches: Wearables For Android And iPhone
Best AI Robot Toys
1.  ROYBI AI Robot
The ROYBI Robot is a STEM toy that has so much to offer, ranging from games and more than 500 lessons to teaching more languages.
This small, immobile robot is the latest tech toy to combine learning and fun in a single product that's suitable for both boys and girls.
This AI robot toy 500 lessons that can be personalized based on an individual's learning pace and interests.
It is intended to entertain and teach languages and basic STEM (science, technology, engineering, and mathematics) concepts to children ages 3 and up.
Roybi robot has a multitude of cool, fun, and educational capabilities. It delivers these lessons, which are designed for kids ages 3-7, via stories, songs, and games.
Roybi's daily lessons are designed to captivate kids, and they can be scheduled and tracked by parents in the special companion app.
In fact, the Roybi App, which works with both Android and iOS based smart phones, allow you to customize the learning content to support your child based on their interests, strengths, skills, and perceived weaknesses.
Roybi also features a unique screenless design, and he uses voice and facial recognition to interact with your child and address them by name.
A built-in 1080p HD camera powers the facial recognition feature, and artificial intelligence allows Roybi to accurately assess your child's responses and answers to questions. Roybi also features emotion detection capabilities that enable him to lend social and emotional support.
2. Dash Robot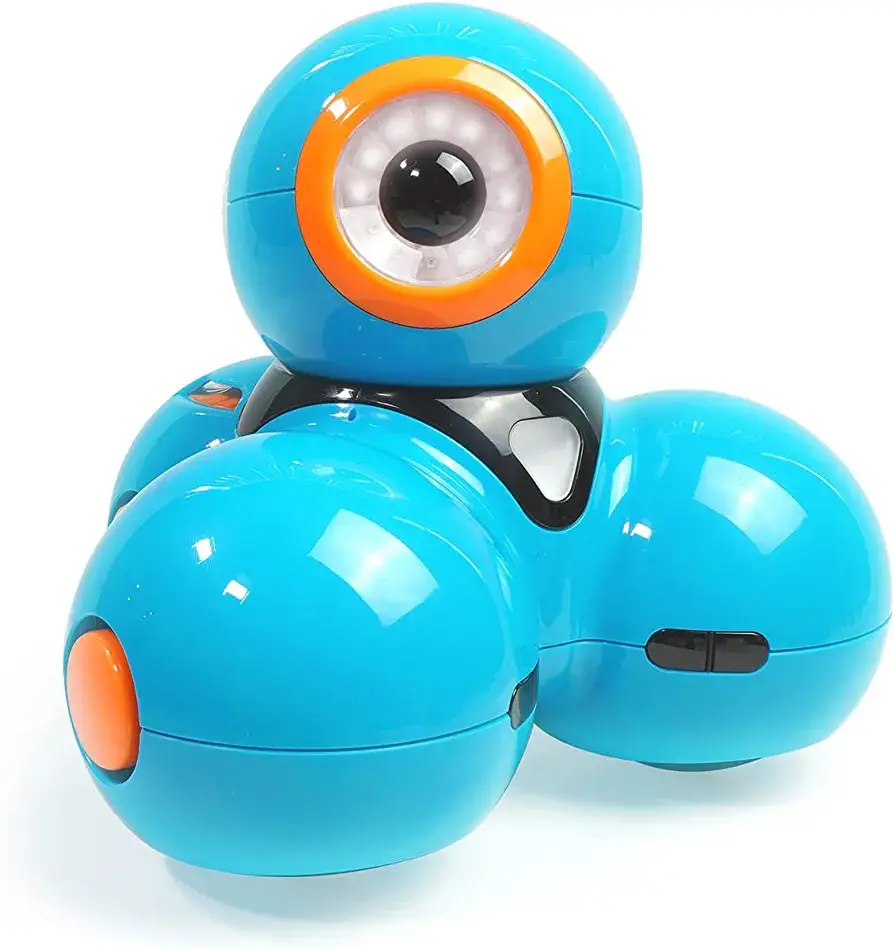 The Dash Robot by Wonder Workshop has been around for nearly five years. Aimed at children aged 6-11, it's a six-inch-tall stack of spheres that scoots around merrily on three wheel under each part of its body – with a head on top that can move independently.
Control is performed through a series of five apps for iOS or Android, with the three key ones also available for FireOS – useful if, like me, you've bought your kids Amazon FireHD tablets so they'll leave your iPad alone.
All of the apps include tutorials to help your children (and you) learn how to build increasingly complex programs, before setting you all free to code away.
There are many reasons why your children might benefit from adding 'real-world' component like Dash to their coding. They may find learning and coding with something that physically responds more interesting than working purely in an app.
A robot like Dash feels more real than a digital character – cuter and more endearing. This is helped by its ability to turn its head to where your voice is coming from – if programmed to, of course – so that it appears to be looking at you and listening.
Robots like Dash show children than coding isn't just about pushing pixels around behind a screen, but is used to control physical systems from your house's heating system to space rockets.
Dash also offers some neat science lessons along the way and it doesn't actually turn his wheels, he just spins one faster than the other. Your child can set the speeds for each wheel individually, getting them to understand the physics behind this through play and experimentation.
Dash is a cute pyramid of spheres with a head that can move independently. Turn it on – after charging it over USB – and it dances happily, letting off little oohs and woos as it goes.
Its cyplopian eye has 12 white LED segments that can turn on and off and get brighter and darker independently – so yes it can wink – and there are lights on its front and sides that can change to many different colours.
3. Zivko AI Robot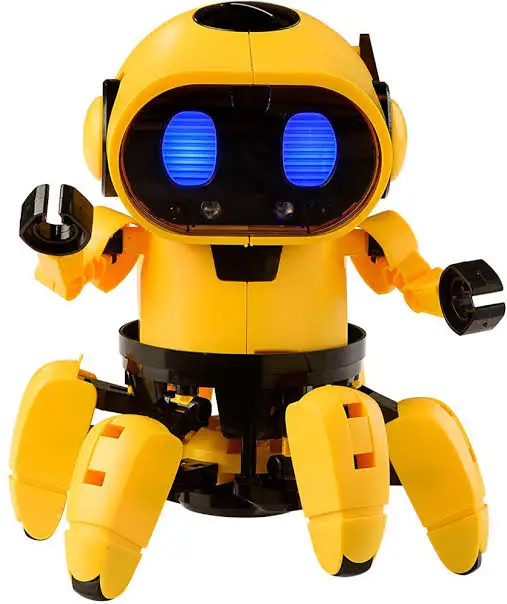 Zivko the Robot is a Hexiped robot that introduces kids to Artificial Intelligence (AI) technology. The product enables a young engineer to experience the use of artificial intelligence.
Zivko has two function modes which are Follow or Explore. In "Follow" mode, Zivko follows whoever approaches it, and acts like an obedient pet and follows you around.
In "Explore" mode, Zivko can avoid obstacles and find a new route to explore. The little robot offers exciting sound and light effects. It develops its own emotions and gestures, just like your pets.
The products generated by Teach Tech. They are mostly based on innovative solutions for Elenco. The philosophy used is a great fun moment for the kids. Along with education, the kids get an opportunity to develop skills.
For futuristic kids can try and examine renewable energy. Like wind, hydraulic, or solar power. The youngsters can get introduced to coding and programming opportunities as well.
It can become a source of education where children can come across various factors. They lead to self-development.
This smart robot can impart knowledge. That involves technology, maths, science, and engineering. The young engineers get an opportunity to assemble spare parts following instructions. This activity enables the robot to introduce robotic engineering concepts within youngsters.
The most educational robot variety the Elenco electronics group has come up with is this Elenco Teach Tech Zivko The Robot . The inherent features of these STEM robots have enriched a kid's mindset and also help in building self-confidence.
Helpful Suggestion: Best AI Note Taker for Effective Meeting and Productivity
4. Bittle Robotic Dog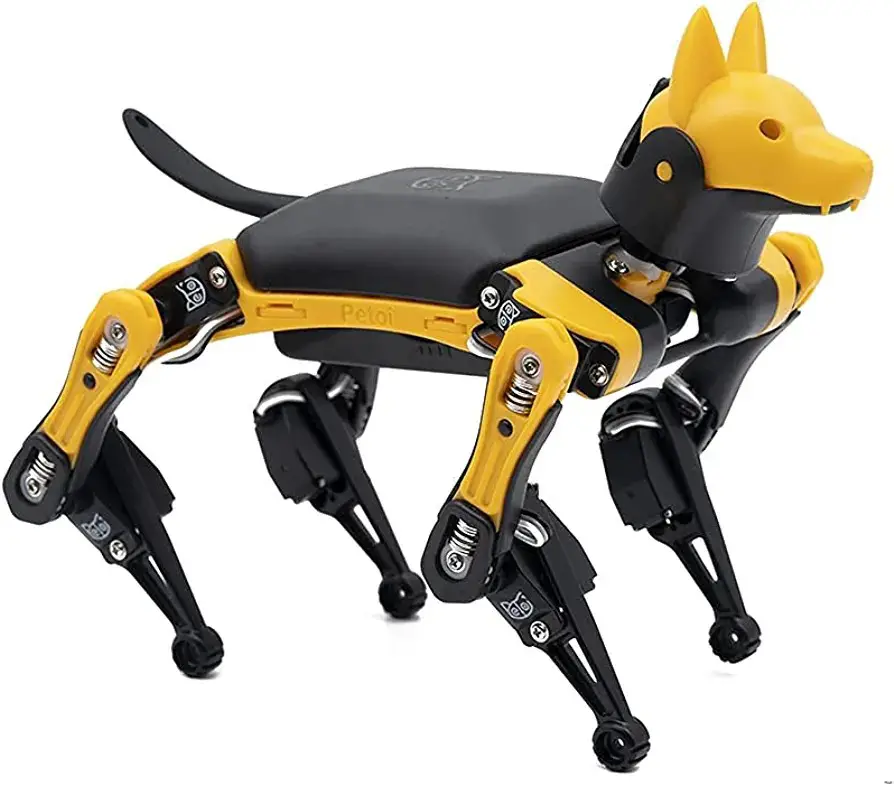 Bittle is a DIY, servo-based robot dog from Petoi, controllable via Bluetooth, infrared and WI-FI. It comes disassembled in kit form (although there is a pre-built option available), and once assembled it's remarkably agile, operating via remote control, via the app or via a number of different programming options.
You can run demo codes before writing your own, and it's a great little tool to learn robotics with the open source software. This programmable robot dog targeted at robotic beginners ages 14 years and up, or anyone who wants to have fun learning and playing with robots.
Bittle comes programmed with a few starter tricks like walk and trot that learners can try out to familiarize them with what the robot can do, and then later expand to more complex types of behavior.
Bittle's open-source platform also allows you to add a Raspberry Pi or attach Grove sensors to extend its capabilities, explore AI machine learning projects, or try out various STEM experiments.
These add-ons, however, are not included in the basic package, so you'll need to purchase them separately. Unfortunately, Raspberry Pis remains in short supply, so you might be hard-pressed to find a good deal on it, much less find one in stock.
The pre-assembled robot also came pre-calibrated and preloaded with a set of basic tricks like walk, sit, stand and trot, which you can control to speed up or slow down using the controller of your choice.
Bittle's short battery life quickly became an issue. As it turns out, an hour isn't enough time for play and exploration at all. Once the warning light turned on and Bittle slowed down or stopped which indicates that it needs to charge.
5. MiP Arcade Robot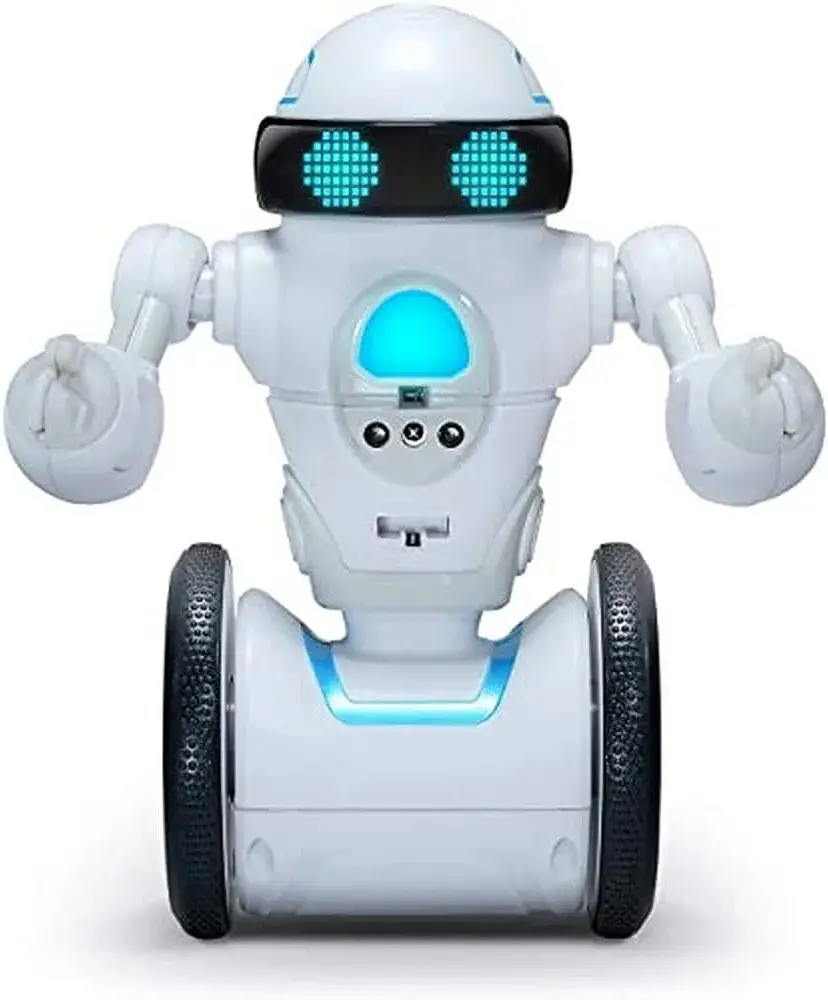 MiP is equipped with GestureSense™ technology and responds to touch, motion, and sound.  It is lots of fun to drive MiP Arcade around with either single or dual joystick control using the MiP Arcade App.
MiP stands for Mobile Inverted Pendulum. It is a product of collaboration between WowWee and the Coordinated Robotics Lab at the University of California, San Diego.
There are a lot of dancing, spinning robots on the market. MiP Arcade robot may still be a standout and impress you. The little guy balances on two wheels, dances to music, carries drinks, and play games.
MiP Arcade App has more than 20 brain train games to test your memory and reflexes and it uses Bluetooth to pair with your smartphone or tablet so you can play games via the MiP Arcade App. You can play single player or multiplayer.
MiP Arade has GestureSense technology to respond to your swipes, claps, and touch. It comes with 1 tray attachment, 1 hoop attachment, and 3 MiP Arcade basketballs for endless ways to have fun.
Built like a Segway with arms and eyes, MiP has a gyroscopic balancing system, infrared sensors, a microphone, and a speaker. He's controlled via gestures, sounds, taps, picking him up, or the app on an iOS/Android device for more complex navigation.
When you first turn him on, MiP Arcade will roll around and explore your house. He'll keep doing that until you stop and play with him.
Using gestures, you can direct him where to go, or you can tap him in different areas or use different combinations of taps to get him to do something.
If he bumps into an object, he will make a sound and stop, but he won't stop self-balancing. He manages to right himself quite easily. MiP Arcade comes with two attachments—a basketball net and a tray.
The basketball net has three balls you can use to shoot hoops with him. It's a fun game, especially considering he's always moving around and you have to work to shoot the balls in the net.
If you have the app open at the same time, you can see your points tallying up, but you can play without the app too. MiP Arcade will flash a light every time you score.
MiP Arcade is the perfect robot companion for anyone age 6 and older. He's a sturdy little guy, but he's easy to pick up because he only weighs 680g. He's meant for indoor play as he's not waterproof or weather-resistant.
6. Top Race Robot Dog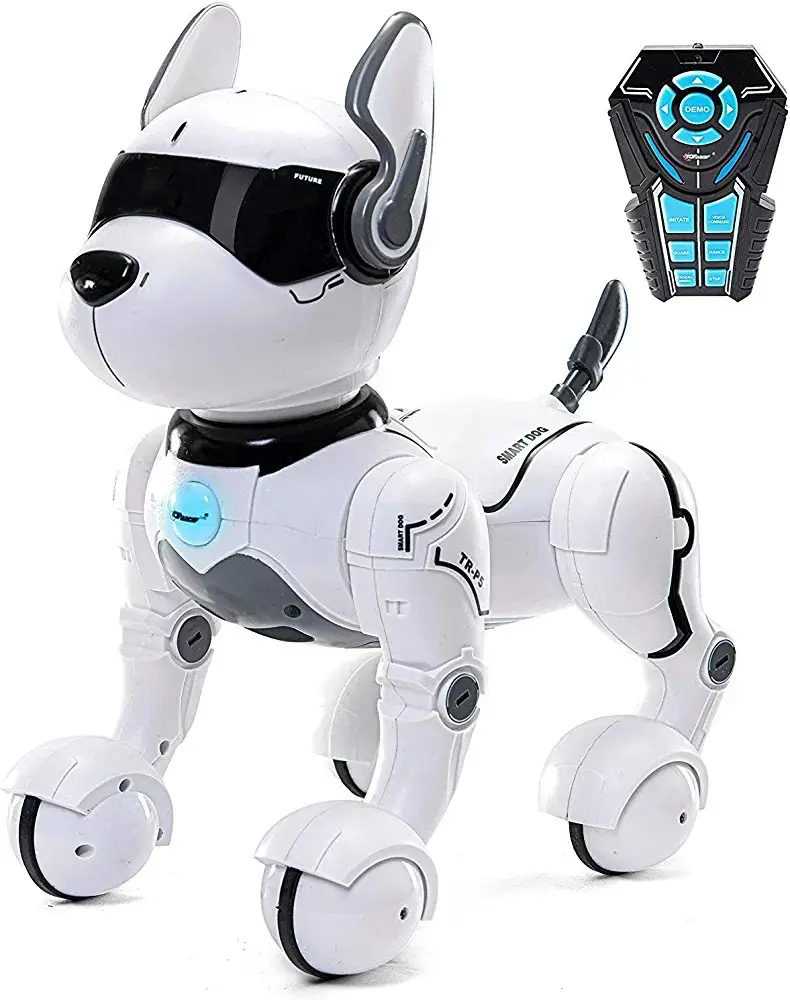 The Top Race Robot Dog is an intelligent, friendly, and great robot toy for any child ages three and up. The Top Race Remote Control Robot Dog is good for any children ages three and up.
The Dog Robot includes 12 voice directives. It also features the ability to imitate up to 10 animal forms with sound and body movements which will help your child get ready for the real dog they will want some day.
The 10 Animal forms it imitates include: slipping, lie down, standing on 2 legs whereas 7 physical gestures function like forward, backward, sing, dance, walk, crawl, expression performance can be controlled through a remote. The smart interactive robot dog is quick sensing and responsive to 50 feet long-range remote control.
This smart robot dog has voice recognition in which you can communicate with this puppy with a clear voice and it listens to commands. This smart dog will respond just like a real dog.
The Top Race Remote Control Robot Dog weighs in at a shockingly low 2.85 pounds so you and your child shouldn't have any trouble picking up the robot dog toy and moving it around.
The Top Race Remote Control Robot Dog also comes with a remote control with seven functions. It also houses a USB rechargeable battery of 7.4v 600MaH. Unfortunately, there are no volume controls. If you find it too loud, you're out of luck.
The Top Race Remote Control Robot Dog is an incredibly smart robot who will respond to your voice directives well. As far as robot toys go, too, the instruction manual is also clear, well-written, and easily understandable.
7. Sillbird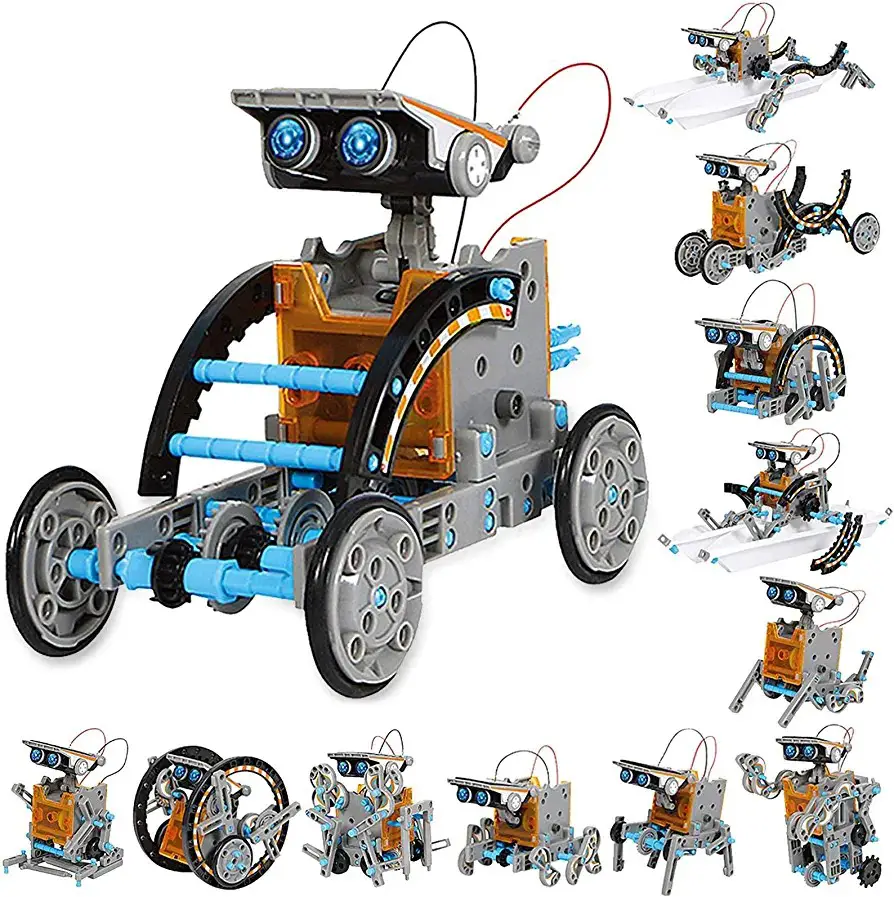 This robotic kit is great for kids who are interested in robotics as well as learning STEM skills. Besides, it allows little engineers to build different kinds of robots in just ONE kit.
It is pretty impressive to see that kids can simply use the components contained to build or rebuild diversified robots. According to the official introduction, kids can build 12 kinds of robots.
In terms of the difficulty of kit building, it is divided into 2 levels. Little engineers can follow the instruction to complete the challenges one by one.
Eventually, kids can build all they want and even create some new robots out of our expectation. No matter how old your kids are, it is one of the great robotic toys could suitable for aged 10 and up.
However, it is quite interesting to see a tiny robot can do so much by simply using green technology. All movements of the robot could be controlled by the core module and the solar panel.
As long as the solar power panel can collect sufficient sunlight and heat energy, it will transform into electric energy and make the robot operating smoothly.
No matter how long kids play the robot, parents do not need to care about the battery issue. Parents can also take this opportunity to introduce the benefits of applying green energy to kids with real-life examples.
8. MIKO 3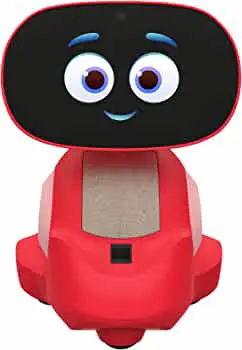 Miko 3 allows kids to complete a variety of on-screen and off-screen activities, such as mini-games (like Tic-Tac-Toe and a game that encourages kids to dance in the real-world), take quizzes (like spelling quizzes), and more.
The robot is designed to entertain, engage and inspire interactive learning experiences. It has 1000+ games, educational videos, stories, puzzles, music, coding, yoga, storytelling, etc. Miko 3 is 100% child-safe with age-appropriate content and profanity filters, plus strict data encryption and privacy policy.
Miko 3 is powered by deep learning AI and an advanced emotional intelligence machine, which has the ability to understand kids and express different emotions, every interaction with kids builds confidence and positively impacts young learners.
Miko can also teach kids about topics like animals and numbers (as examples), and it does seem to function like a standard smart assistant, although one that can move around.
The Miko 3 is a robot powered by artificial intelligence technology, and is designed to be a friend and a teacher for kids ages 5 – 10 years old. It comes with a number of great games for kids to play. The games are relatively simplistic, but for kids 10 and under they are still engaging.
The Miko 3 is equipped with a wide-angle HD camera and high-tech sensors that allow it to calculate distances and changes based on movement.  There is a pretty expansive touch screen that is 4.46″ on the diagonal and has a high-resolution IPS display that provides impressive color performance and wide viewing angles.
The Miko 3 is under 9″ in height and only 2 lbs in weight.  When not using the Miko, it's the perfect size to have resting on a desk or bookshelf.  The outside shell of the Miko 3 is actually made of a non-toxic ABS polymer, making it resistant to high impacts so you don't have to worry about it breaking in the hands of your little ones!
Miko 3 supports any wi-fi secured network, like 2.4GHz / 5GHz, with a minimum upload and download speed of 5mbps within the range of 5 meters. It also works on your mobile hotspot with a minimum upload and download speed of 5mbps within a 2-meter range.
Miko 3 is an impressive little robot companion for kids, it can initiate conversations, detect mood, tell jokes, and adapt to different environments. Fun, witty, adaptive, smart, and empathetic are all adjectives that describe Miko 3.
And to express these qualities, Miko 3 was developed with advanced AI engineering. Its qualities revolve around for core pillars; personality, platform, progress and privacy.
To connect with kids on a highly personal level and facilitate learning, Miko 3 was built around proprietary emotional intelligence; a complex conversational and multilingual AI framework; edge and hybrid speech and vision recognition; and an active learning and behavioral analysis engine.
Don't Miss: Best Fitness Apps That Use AI and Machine Learning Models
Wrapping Up
AI-powered robots are great technological achievement to provide numerous benefits for children's development and teaching children STEM skills.
These robots are interactive, engaging and could serve has a way to engage and build confidence in kids. Some of this AI robot provide an opportunity for children to learn through play which is a more natural way of learning.