AI content  detection tools can help you to easily detect if content is written using AI content generators like ChatGPT, Jasper, Frase or any AI content generating tool.
As the popular saying "Google is getting smarter daily in detecting AI contents". Google has penalized auto-generated content for a long time and will likely continue enhancing its capabilities to detect content generated by AI tools.
An AI detection tool is essential especially if you use AI writing tools and want to ensure you're creating original content. It's more important than ever to ensure your content is human-like, and the best AI content detectors can help you do that.
This tool will ensure that you are not just creating content that are will be flagged by search engine as an AI generated content but you can also be sure that you're creating unique, human-driven content, avoiding Google penalties and adding value to your readers.
Using one of these AI detection tools can help you know how "human-like" your AI-generated content is and what edits you can make before publishing and risking Google detecting your AI content and penalizing your content from ranking.
Trending: Best AI Rewriter Tools (& Article Spinner Tools) That Are Worth Trying
Best AI Content Detection Tools
1. Originality.AI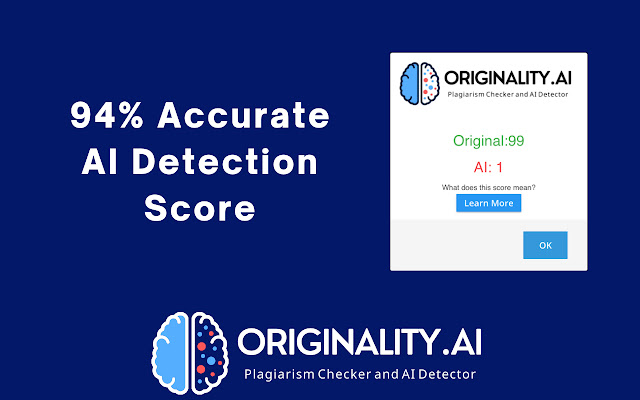 Originality.ai is billed as an AI content detection software.  It scans content you submit and generates a score. 
The scoring is a sliding scale from 0 to 100.  If the AI score is high, that means there's a strong possibility it's AI-generated content.
Originality.AI allows content creators to detect content generated by popular AI tools and assess overall content quality and originality.
Over time, there's a high chance that using an AI content detector will become as essential as using a plagiarism checker.
Originality.AI markets itself as a "plagiarism detector and AI detector built for serious content publishers."
The plagiarism and AI detectors represent the tool's two core functions.
Originality.AI's AI content detector has a robust plagiarism detection module with features that publishers who manage a team need but are not currently available.
This includes a dashboard, team management, complete website scans and team history.
OpenAI, the creators of ChatGPT, released the tool using a natural language processing model called "GPT 3.5." Originality.AI recently updated its model to detect GPT 3.5-generated content, along with the past versions of GPT.
Currently, there's no ability to see how Originality.AI generated the score or to get feedback on specific parts of the text.
The tool just launched, so I expect they'll add this ability over time as it evolves.
One great way to use Originality.AI is to paste in sections of your post one by one.
This way, you can see if a section is likely causing issues and revise them to re-word phrases or add in original content.
It can detect GPT 3.0 content with a 94% success rate and has had similar success detecting GPT 3.5 and ChatGPT content and also provides a percentage estimate of originality (for example, the tool has 70% confidence that the content is original).
Like the other tools on the list, it only provides a score and doesn't tell you which parts of the content it flagged as AI-generated. It has a simple, easy-to-use interface – paste your text and get an originality score.
It offers the ability to see your past scans. The company plans to offer full site scans in the near future, allowing you to assess the quality of content across your entire website.
The pricing system is based on credits. Each credit costs $0.01 and can scan 100 words of content for either AI usage or plagiarism. That means checking a 2,000-word blog post for AI usage can cost just $0.20.
Features of Originality.ai
1. Plagiarism detection
Originality helps users who write articles, editors, to compare any written article with a vast database of sources to detect and highlight any similarities and matches. 
This AI content detection tool uses advanced AI technology and a natural language model to detect any text that has slight similarities in the article, and then provide a detailed analysis showing the plagiarized sections. 
2. It shows similarity percentage
This AI content detection tool uses this particular feature to show the percentage score of the level of similarities in the article a user uploaded on the Chatbot and the sources in the database. 
With this percentage score, a user can determine the level of originality of his article and then make necessary adjustments if need be. 
3. Citation and referencing suggestions
With this feature, users can get useful suggestions on citations and references when they are writing article content so that they can avoid plagiarism and ensure that their content is properly written and readers of the content can easily understand and make discoveries while reading their article. 
4. It allows easy customization
Users can easily customize this tool to suit their needs. Users can easily adjust the level of sensitivity of the analysis, choose specific databases to make comparisons with the article or text you upload on the interface, and lastly, users can customize the tool to ignore certain types of content or sources. 
Pros
It provides advanced plagiarism detection. 
It is easy to customize to suit one's needs.
It has a friendly user interface. 
It provides accurate reports for every analysis it performs. 
It carries out analysis very fast. 
Cons
It is not free to use. 
It only supports the English language.
It doesn't provide a free trial.
2. GLTR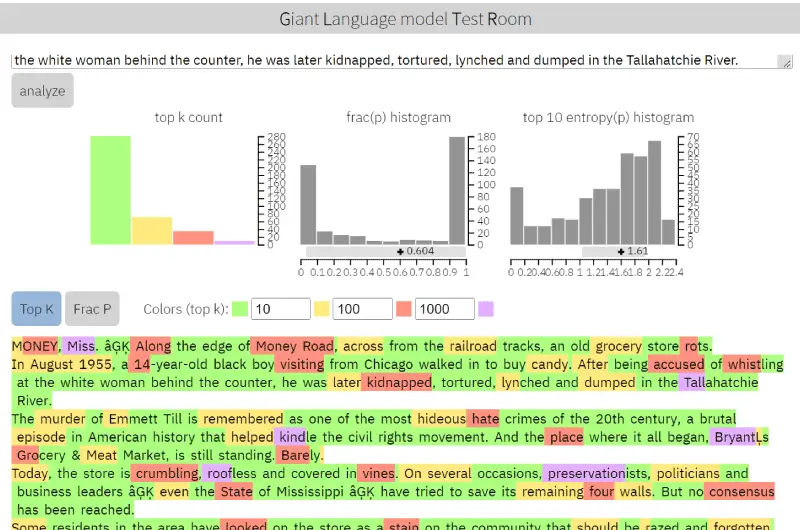 GLTR is a tool that supports humans in detecting whether a text was generated by a model. GLTR applies a suite of baseline statistical methods that can detect generation artifacts across common sampling schemes.
In a human-subjects study, we show that the annotation scheme provided by GLTR improves the human detection-rate of fake text from 54% to 72% without any prior training. GLTR is open-source and publicly deployed, and has already been widely used to detect generated outputs.
GLTR full meaning is Giant Language model Test Room and it is a project jointly developed by the MIT-IBM Watson AI lab and Harvard Natural Language Processing group.
GLTR is one of the most detailed AI content detectors. Using a color-coded system ranging from green to purple, GLTR analyzes each word in a text to determine how likely it is that it would be used in that place. Green words are the most likely, followed by yellow, red, and purple.
While this is counter-intuitive, the more red and purple your content has, the more unique it is. AI language models typically use more common words, so unique words can help your content pass AI detection tests.
You can look at your text with this tool and add synonyms for green words where appropriate. This will likely improve your AI detection scores. KGLTR compensates for the lack of user-friendliness and intuitive design with highly informative data.
The tool actually pretty simple to use , but it could appear super challenging. You paste in your content and click "analyze." Then, it will show you a color-coded output, which you can use to make changes to your content.
GLTR  is the only tool that gives you insights into the text to change in your content and it's interface is deceptively simple – you paste in text, then click "analyze."
This tool allow you to understand the originality of your content. It doesn't give a "percent original" score like other tools. And the best part is it's free. This is an excellent deal for how technically advanced it is and how much data it gives you.
The aim of GLTR is to take the same models that are used to generated fake text as a tool for detection. GLTR has access to the GPT-2 117M language model from OpenAI, one of the largest publicly available models. It can use any textual input and analyze what GPT-2 would have predicted at each position.
Features of GLTR
1. It has a good Language Model
The language model embedded in this AI content detection tool is GPT (Generative Pre-trained Transformer), and that is why it is very good at generating human-like text. 
With the help of this deep learning model, this tool undergoes training using a massive amount of text data as its instructor so that it can generate text with good language and grammar.
2. Error Detection
This AI tool uses the deep learning model embedded in it to carry out deep analysis on any written text and then detect errors such as grammatical errors, spelling mistakes, and inconsistency in the text write-up or article. 
It can detect potential biases that might occur in the uploaded text when it analyzes the text, offensive text is also exposed after the text analysis. 
3. Style analysis
This tool uses GLTR to analyze the writing style used to draft the article uploaded on its interface. 
It compares the article with the human-written texts in its database to detect if the writing style is the same or if it is a machine-generated article, and if it notices any part generated with a machine, it highlights it so a user can make necessary changes. 
4. Interactive Interface
The interface of this tool is very intuitive as it allows users to easily analyze and edit any article on its chatbox.
 If a user wants, he can highlight a specific part of the article and then use the tool's analysis feature to detect any potential errors and biases.   
Pros
It helps users easily detect if an article is machine-generated or it is human-written. 
It has a friendly user interface. 
It improves the overall accuracy of a text or article. 
It helps users give their text or article more clarity. 
Cons
It has limited scope when analyzing some article content. 
It requires users to fine-tune the algorithm in the tool to support other languages apart from English.
3. AI Detector Pro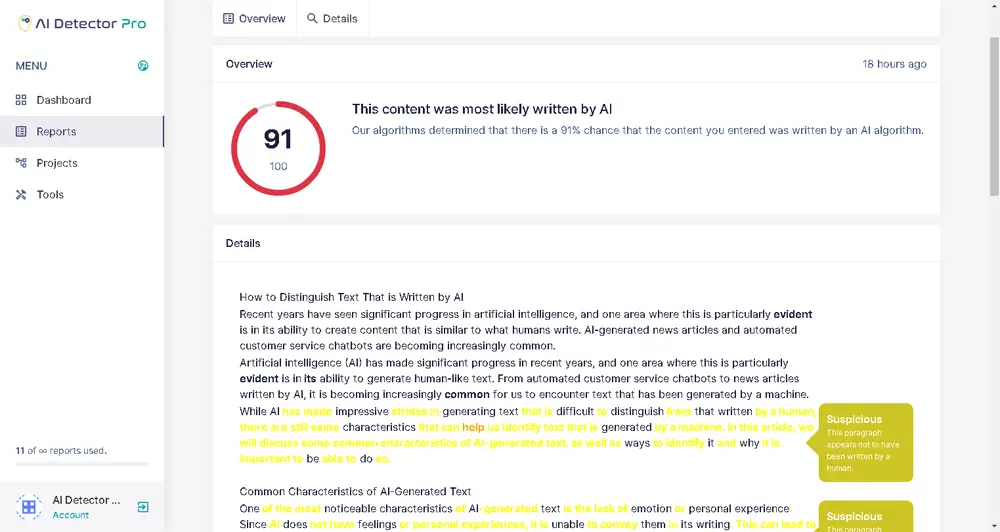 This is a new AI tool that checks out content to detect if it is human-written or is generated with the help of an AI content generator that uses the GPT AI algorithm. 
This tool possesses an advanced ability that allows it to detect content generated by AI paraphrasers as well.
This AI detector uses the data stored in its GPT content storage to find the pattern that is a replica of how the AI content generator generates content as this pattern is not similar to human writing patterns. 
Since this pattern is not similar to human writings it easily flags it as an AI-generated content immediately after it detects such content pattern. 
It is well trained to not only detect contents generated by GPT-based model data it can also detect contents generated by Google Bard. 
So, all contents generated by GPT models such as GPT-2, GPT-3, GPT-NEO, GPT-J, and other are easily detected by  AI Detector Pro. 
For the record, most content generators are generated based on the GPT state-of-the-art model, as this is still the best AI model to use to generate good content so you don't have any limitations with this tool when checking content.
Apart from the AI content detection feature that AI Detector Pro possesses, it also can generate good AI content as well. It uses an AI text model called a transformer network. 
This network undergoes training with a daily stream of huge datasets. When generating content, it uses the keyword to get words that are related to the main keyword either in text format or in contextual meaning, this means you can use this feature to generate long content about a particular topic. 
The amazing thing about this software is it was created mainly to support students and that is why it has free plans for new users. 
Immediately an individual signup on to the interface and verify his email, he immediately has access to 10,000 characters that can be scanned for AI content based on the report or project they upload on the AI Detector's interface. 
Even though there is a free plan for new users, the accuracy of this tool in detecting AI content is of good standing as it has an accuracy point of above 90%  which is of the same grading as the paid plan, so a user on the free plan is not losing many benefits. 
The algorithm of this tool receives constant training daily and the software itself is a great tool for students who are believed to be managing their resources. 
It is quite amazing that this tool offers a money-back guarantee for its users, so if a new user purchases any of the plans and doesn't like the tools' service, he can immediately request his money back with no stress. 
But for a user to quickly receive back his money, he has to first of all cancel out the plan of the AI content detection tool that he purchases.
Features
1. It allows easy report scanning
Users can use this tool to scan their reports for any AI-generated content. This tool's main feature is the AI content detection quality it possesses.
The  developers of this tool boost that the tool offers more than 90% accuracy when scanning one's report for AI, so users can be rest assured that this tool is a great companion when trying to eliminate AI content in a report.
2. It allows integration of API
This content detection tool allows users to integrate API facilities that help users in detecting AI content easily. 
Although this feature can't be accessible unless a user purchase the unlimited plan on the tool's interface, it is still a worthy feature that is very helpful when going through large report content.
3.  It is a good research tool
Although this tool is an AI content detector, it is also a good research tool. It uses information from its large dataset to carry out deep research on topics or keywords user inputs in its interface. 
With the help of its deep learning algorithm and neural networks embedded in its interface, it easily does content research. 
Pros
1. It offers a free plan for new users to use. 
2. It has a good user experience, especially for new users.
3. It is very reliable when it comes to AI content detection.
4. It offers 30 additional tools that are very helpful for online store owners or website owners.
Cons
1. It free plan is limited.
2. It is quite expensive for some pockets. 
3. Its basic plan is limited when it comes to AI content scanning. 
4. It does not support multiple languages.
4. Huggingface OpenAI detector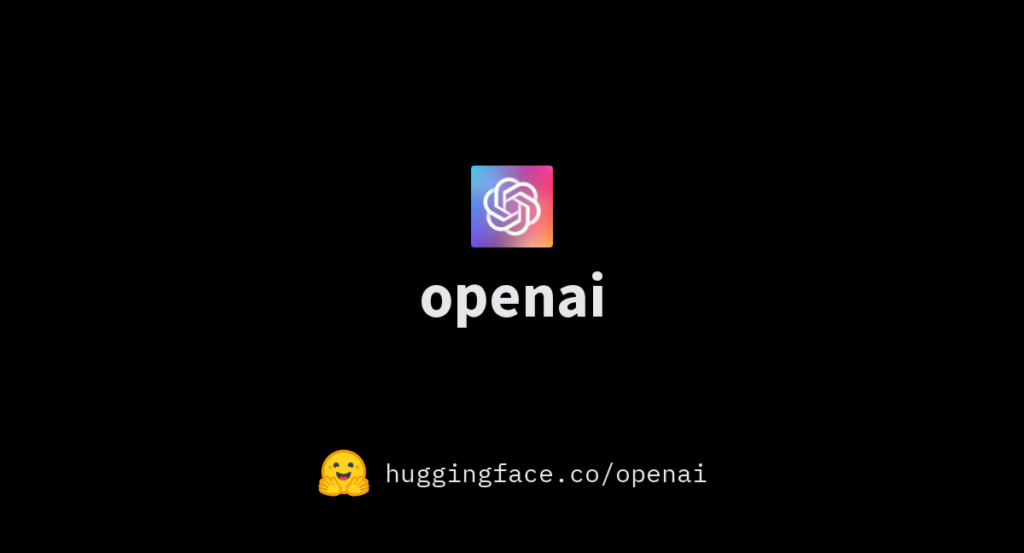 Huggingface OpenAI detector classifier is able to detect 1.5 billion parameter GPT-2-generated text with approximately 95% accuracy.  The model can be used to predict if text was generated by a GPT-2 model.
Though it's an open-source AI community where folks can share ideas, the site also has a free AI detection tool. All a user needs to do is copy/paste their content into the box, and it will show the user where it ranks on a "fake" to "real" scale.
Results get more accurate the more content the tool is fed, so this one may be better for folks who are testing longer AI-written content.  
Although a pioneer, the tool isn't updated to detect text generated by newer AI models like GPT3 and GPT3.5.
Features of Huggingface
1. It possesses a GPT-2 output detector model
This feature allows Huggingface to generate text that appears in the style of a human writing format, the text it generates is based on the input entered in the chatbox.
With the help of the GPT-2 AI model which is a large-scale language generation model, it can produce text of high quality in different text formats and styles. 
2. It possesses Roberta
This AI content detection tool uses the transformers library as a base to develop its database. 
Mind you, the transformer is a library that contains lots of information on various topics, categories, etc. 
As it is an open-source library that allows people to input accurate and verified information on its storage. 
With the help of Roberta which is a transformer-based language model that is trained using a large database that contains lots of information and is fine-tuned on specific tasks and the transformers library,  it can carry out deep analysis on any particular text or article. 
3. It can Fine-tune specific data sets
This AI content detection tool allows a user to use this feature to fine-tune the Pre-trained model such that it can classify text into different categories such as spam vs non-spam, positive vs negative sentiment, etc. 
And this helps users achieve higher accuracy and better results when the tools are performing the analysis. 
Pros
It is very flexible to use. 
It is user-friendly. 
It adapts fast to changes users make on it. 
It can be customized and fine-tuned to match users' needs. 
Cons
It sometimes experiences some traffic overload but is not frequent though.
5. Content at Scale AI Content Detector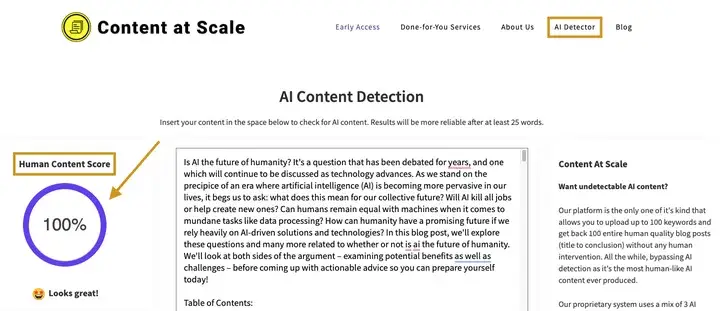 Content at Scale is an AI content generation service that promises to produce full-length, SEO-optimized blog posts in just a few clicks without human intervention.
It has a simple user interface. With one text box, one button, and one score, it's impossible to get confused or lost.
There's no cap on how often you can use it. If you want to keep testing new inputs 400 words at a time, you can go for weeks.
Content at Scale's AI-generated content technology is pretty advanced, so its AI detector will likely keep improving over time.
Given that they focus on creating content that can pass AI detection tests, they have a vested interest in creating an accurate AI detection tool.
They've made that tool available on their website for everyone to use. As far as free tools go, it's pretty great.
Features of Content at Scale
1. It detects AI text
This AI content detection tool does a deep analysis of the text or article a user paste on the tool's interface. 
It analyzes the structure and patterns of the text. 
This tool checkout for the possible characteristics that AI-generated contents usually exhibit that stand out from human-written text, things like repetitive phrases or lack of consistency in the text.
It uses the machine learning algorithm embedded in the interface to analyze these features accurately so that any text generated by an AI language model can be easily discovered. 
2. It displays visuals
When a user is using this tool, this feature allows the user to easily identify plagiarized content since the tool displays the plagiarized content at the sidebar. 
With this, a user can decide how to edit the content with no stress. 
3. It performs good scanning
This tool performs good scanning on the text or article a user paste on its interface. Mind you, this scanning is free of charge and a user doesn't even need to create an account with them. 
A user can perform as much scanning as possible to detect any errors in the article. 
Pros
It doesn't require a user to sign up before using its features. 
It is very easy to use. 
It offers super fast scanning of texts or articles on its interface. 
It is free to use.
Cons
Its accuracy level isn't all that high.
It cannot perform URL scanning. 
It cannot detect plagiarism. 
6. Sensity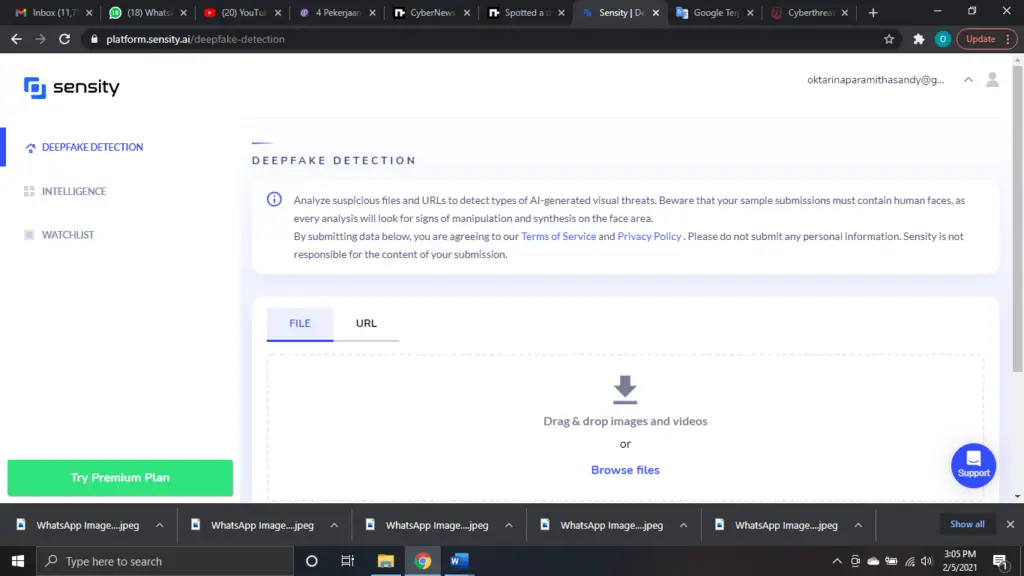 This tool is another AI software that does the online detective work which is detecting content that is generated by AI tools.
Unlike some other AI content detectors, it detects both text format content and visual content format. 
It is one of the top most preferable tool use tools to detect, identify and combat deep fakes videos, fake mages, and text generated by AI tools. 
Deepfake is a term used to refer to media assets that are created using artificial intelligence algorithms to manipulate or fabricate videos, audio, images, or any visual content. 
Over time, there have been instances whereby the information generated is wrong, or deceiving and possesses some certain degree of harm. 
Since the time Sensity has been released to the public, it has proven to be reliable to some extent. 
With the advantage of its machine learning algorithms and computer vision technology, it accurately analyzes video content at a different level, as it accurately analyzes the visual and audio elements for any traces of AI element. 
This AI content detention tool's main focus is on identifying patterns in the videos and audio that doesn't match, once it detects any inconsistency, it flags it as a deep fake. 
It examines the facial expressions, lighting, shadows, and pixel-level artifacts to check for signs of AI-generated alterations. 
With the help of its database which contains lots of deep fakes and legitimate content, it can properly analyze any video content or image content it comes across. 
The fact that Sensity can detect if video content has been manipulated a little before by an AI is very mind-blowing because sometimes most of this video won't show the regular pattern that AI tools usually follow.
This feature allows it to easily adapt and integrate itself into various platforms and workflows, makes it stronger and better than most AI content detection tools as it can be used in real-time content monitoring and detection. 
Social media platforms, content moderation teams and other uses this tool mainly because of its swift adaptability and the fact that it can proactively identify and correct the spreading of AI-generated content.
Since the time this AI content detection tool has proven to be more reliable than ever, a lot of users have trusted its judgment on any video content.
Sensity plays a crucial role in keeping in check the integrity of digital media organizations ensuring that they don't fall victim of AI-generated contents.
And as a result, a lot of misinformation campaigns, reputational damage, and privacy violation have been avoided so far. 
Features
1. It has Deepfake Detection Ability
With this feature, a lot of social media platforms have close down lots of accounts that are suspected to be operated with AI. 
Officials working on social media platforms use this feature to analyze the image and video content to detect any signs of AI content.
With the help of the latest AI-based media manipulation and synthesis techniques embedded in it, it is a lot easier to detect realistic face swaps in videos. 
2. It can detect AI-Generated images
This feature allows users to detect AI-Generated images generated from AI-Generated models like Dall-E, Mid Journey, Stable Diffusion, etc.
These are very good tools that can generate images that appear realistic. 
The amazing thing is that even though these image generators have a record of generating images that are a 95.8% accuracy rate, Sensity still detects their creation easily. 
3. It can detect AI-Generated Text
This tool is also very good at detecting texts generated by AI models with large language technology like GPT-3 etc. 
That draft text is not easily distinguishable from text generated by AI but yet with the machine learning algorithm embedded in this AI content detection tool, it still manages to pull off the feat by evaluating the text with the original and AI content stored in its database. 
Pros
It is a powerful AI content detection tool that easily detects AI content. 
Its analysis is very reliable.
It protects digital media organizations from the risk of deep fakes.
Cons
It poses a certain degree of threat to individuals' privacy. 
It sometimes creates data vulnerabilities for hackers to use. 
The likelihood of identity theft can't be underestimated. 
7. Deeptrace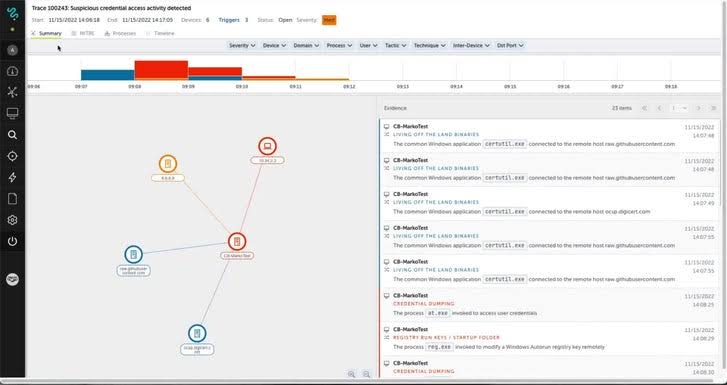 Deeptrace is a detection tool that is used as a forensic tool on digital assets.
 It uses advanced and intellectual technology to address the growing concern of AI-generated content spreading rapidly in the online space. 
This tool detects any content that is either created or manipulated by AI content detection. 
Based on the recent study on the impact of AI-generated content, it reveal that the ease of access to powerful AI tools that can generate good content and the increase in the number of users on online platforms have made it more challenging to differentiate between genuine and fake media content. 
Deeptrace just like Sensity possesses some cool features that allow it to tackle this deep fake situation that is growing rapidly in the online space. 
With state-of-the-art machine learning algorithms and computer vision techniques embedded in its interface, it is an easy task for it to detect and analyze deep fake content. 
Over time, its machine learning algorithms have been trained with lots of data, including both the genuine content and the fake content so it can learn the pattern of both including their anomalies so it can carry out its analysis correctly.  
The mechanism used in the development of Deeptrace involves the implementation of a multidisciplinary approach that involves gathering the minds of top experts in machine learning, computer vision, digital forensics, and media analysis.
With the joint help of these experts, there is steady improvement in the system's capabilities such that the system is upgraded to the latest version of the top deepfake models' techniques. 
Deeptrace just like Sensity has proven to be a valuable tool that combats the misuse of AI-generated content in the online space. 
By combining artificial intelligence, data analysis, machine learning algorithms, and forensic expertise, it accurately spots AI-generated content thereby allowing researchers, media professionals, etc. 
To easily identify and avoid potential harm that deceptive media content generated by AI can cause.
Features
1. It can detect Deepfake
Due to artificial intelligence and the advanced machine learning algorithms embedded in its interface, it can analyze and identify contents that are generated by AI models.
 It can easily identify content like images and videos generated by AI just by highlighting the inconsistencies that appear in the content. 
2. It can perform accurate image and video analysis
It is very capable when it comes to performing a good analytical examination of content in the digital space such that it won't mistake content generated by a human creator to be AI-generated content. 
3. It can perform content moderation
Deeptrace can do deep scanning on auto-run and moderate the rate at which contents generated by human creators are spread on the online space, social media platforms, or forums such that it can easily flag contents that do not meet the social media platforms' guidelines or policy. 
4. It can keep training and learning
Due to the neural networks embedded in its support system, it can keep training and keep updating its database regularly which makes it more effective when carrying out its analysis of digital content on the online space. 
Pros
It plays a crucial role in maintaining the integrity of digital media creators. 
It serves as an essential tool in the ongoing battle against the misuse of AI. 
It helps to preserve the trust online users have in digital media creators in the online space. 
Cons
It is not easy to use. 
It is not beginners' friendly.
8. Copyleaks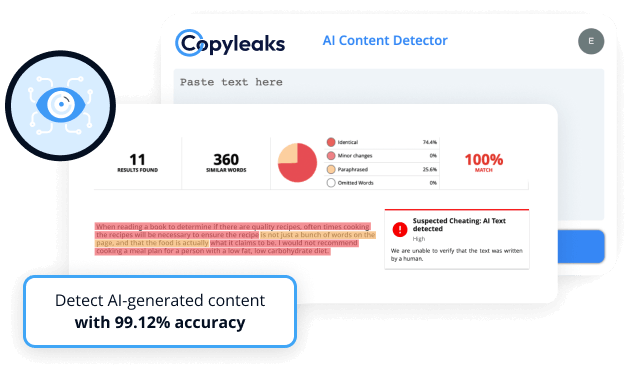 Copyleaks is an AI content detection tool that has powerful online plagiarism detection and content authenticity ability.
It uses advanced AI and intellectual machine learning algorithms to perform deep scanning analysis during which it compares the context of the content against the vast amounts of data in its database that comprises information from online sources, academic journals, publications, and other online storage that contains lots of data on various topics to detect any plagiarism of any sort.
Copyleaks are commonly used by educational institutions, content creators, publishers, and businesses to ensure that their contents are original, and also to help them organize their large volume of content to ensure that they don't produce duplicate content that have already been produced before. 
Copyleaks is known to accept different languages which mean you can use it to carry out analysis on content that is not in the usual English format but the funny thing is not everyone that uses this tool that knows about this advantage. 
Businesses on many social media platforms can easily integrate their accounts on the interface of the AI tool which makes it easier for it to not only detect duplicated content but also to easily manage the contents on the account to ensure they are well optimized for the target audience. 
Features
1. Plagiarism detection
Copyleaks help users to scan their submitted contents which can either be in a document or plain text format.
Once the content is uploaded to the available chatbox, it compares them with an extensive database of online sources, which includes websites, articles, academic journals, and many more. 
The comparison is done mainly to identify plagiarized or duplicate content of any degree which once notice, highlights it, and provides the location where the plagiarized content has once appeared. 
2. Multiple File Formats
This allows users to upload files of almost any format as it supports a wide range of file formats. 
Users can upload files from Microsoft Word documents, PDFs, plain text files, and more whenever they want to check for plagiarism on any of their written content. 
3. Multilingual Support
This allows users to upload files of different languages apart from the English language and this feature gives users a lot of options on languages in which they can produce their content.
Most users that understand the English language usually say this feature is made specifically for international users but I think any one can make good use of this advantage. 
Pros
It provides a comprehensive solution that helps to detect plagiarized content easily. 
It allows online users to identify unauthorized use or distribution of their copyrighted content. 
It detects AI-generated content accurately. 
Cons
It is not free to use. 
It is expensive to purchase. 
It requires users to hover over text before they can see the percentage score of their analyze text.
9. Writer.com AI content detector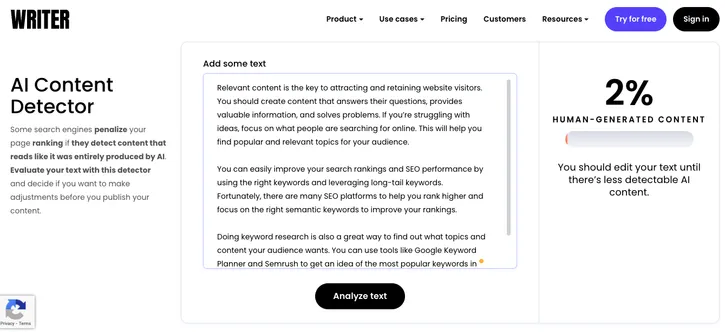 Writer.om's AI content detector provides a simple, easy-to-understand report. It also has an easy-to-use AI content detector to make it easy for users to check their AI-generated content before sending it out into the world.
It's free, without a paid version. You can use it as much as you want without spending a dime.
Features of Writer.com
1. Plagiarism Detection Feature
This AI content detection tool uses this feature to allow users to check if their text is plagiarized by any degree or if it is copied directly from other available sources. 
This AI compares the text with billions of web pages and other online documents to identify if there are any similarities and if there are, it flags it as plagiarized content. 
2. Readability analysis
This AI tool assesses the content's readability, this also includes the grammar, content's complexity, and the reading level of the target audience of the content.
It checks for any possible error that might appear in the content and then offers the correction to the user.
If there's a need for a user to improve a text or the context of a text in any way, this AI content detection tool gives useful suggestions.
It also detects if the content is machine-generated or it is human-written by comparing the readability, coherence, and clarity with human-written content that is available in its database. 
3. SEO Optimization
On nothing new content, writers check the keyword density of the content, check how often the keyword appears in the content, and make necessary corrections to ensure the content is well optimized if it wasn't before. 
Also, during the period of correction, it suggests meaningful changes that improve the visibility of the content on search engine result pages (SERPs.)
Pros
It helps users create high-quality content that doesn't have plagiarism. 
It helps users create content that is readable and also easy to understand. 
It helps users create content that is well-edited to suit some specific set of people. 
It helps users to build up their grammar vocabulary. 
Cons
Most times, users don't get their vocabulary to improve when using its services.
It doesn't offer a smooth learning term for users who will love to improve their vocabulary. 
To get the most value out of this software, users have to spend lots of time setting it up. 
What is AI-generated content?
AI-generated content is copy such as blogs, marketing materials, articles and product descriptions written by a machine. The AI content creator generates the content after a person inputs information such as keywords, phrases and topics.
AI-generated content can help speed up the writing process, and businesses are starting to take notice. Marketers may consider using AI-generated content for automating the content marketing process, which can, at times, be time-consuming and expensive.
How does AI-generated content work?
To produce content, users enter the text format needed, a topic and keywords. The AI then searches the internet and pieces together copy fitting the requested format. Some tools also rewrite a business's existing content to add information based on web searches and editing tools.
These tools can take this existing content and reformat it to fit other communication mediums, such as turning a blog article into a social media post or email draft. There are free content generators available, but others charge for more in-depth content.
What Are AI Content Detectors?
Recently, models such as GPT-2, GPT-3, and ChatGPT have led to the rise of machine-generated content. This synthetic content is increasingly indistinguishable from human-written content.
Despite rapid progress, these models continue to have shortcomings such as hallucinated facts as well as consequences such as enabling cheating in language courses.
AI content detectors are specialized tools that use artificial intelligence and natural language processing algorithms to analyze the language and syntax of written content.
Although, Most AI content detectors just give a score mostly on scale of 0 to 100, whether the content is original or generated by an AI writer.
These tools can help you ensure high content originality, readability, and quality.
You might also want to read: 10 WordPress Plugins Using Artificial Intelligence and Machine Learning
How Do AI Content Detectors Work?
AI content detectors work by using a language model similar to the ones used by Google to predict likelihood of certain words and phrases in content. Using this judgement, it is able to give users a score on how "human-like" the content will appear in Google's eyes.
It analyze the words and syntax of a text, looking for patterns within it. When they spot patterns similar to those seen in AI-generated content, they flag it as AI-generated.
The tools likely base their score on how AI-generated content uses more predictable, repetitive, and less contextually dependent words, while humans use more random, creative words.
Why is it important to detect AI content?
Organizations, government agencies, and universities have a strong interest to determine if a piece of content was generated using a language model or AI text tool.
What percentage of the thesis handed is authentic, written by a human?
With the advancements of ChatGPT and GPT4 the text generated by these tools is nothing short of amazing.
It is important to have the watermarking detection in place or students / employees could be using these tools and passing off as their own.
Marketers and SEO companies who buy content may want to understand the extent to which the content they have acquired was generated using tools such as GPT3 or Jasper, Writesonic, or copy.ai.
Can Google Detect AI Content?
Google appears to have the ability to detect AI-generated content.
It is not yet certain as to whether Google can truly detect AI content automatically, however, we do know that Google does deem AI content as spammy when reviewed manually.
Despite this, there are many AI content detectors out there that do this job pretty accurately, leading many to believe that Google has implemented similar technology to its algorithm.
As there is no proof of this though, it's difficult to definitively say whether Google can actually detect AI content automatically or not. Nevertheless, Google is getting smarter about detecting AI Content.
Will Google Penalize Content Created by AI Tools?
At first, Google detest AI generated content. But now, according to Google's webmaster guidelines, Google is not against AI generated content.
But Google emphasis that it is against any misleading information or content or content that does not offer what the searcher or user is looking for.
How can we detect AI content as written with GPT3 or ChatGPT?
Here are some other methods that you can use to detect whether content has been written by GPT3 or ChatGPT:
One thing to check for is the linguistic features or patterns that are common in machine-generated text. e.g. AI-generated text might have higher levels of repetitiveness or lack the complexity and variability of human-written text.
You can also check for specific formatting or structural features that are common in machine-generated text. e.g. AI-generated text might have a more uniform structure or lack the variety of formatting that is typical in human-written text. They sometimes look "too good to be true".
You might also want to checking for certain keywords or phrases that are commonly used in AI-generated text. That's a lot harder already. In general, there are statistically significant patterns known and detectable of which word combinations a model like GPT3 picks.
Lastly, you can compare the content in question to known examples of machine-generated text. This could be done manually or especially using machine learning techniques to analyze the content and determine its likelihood of being generated by a machine, again.
How I make UNDETECTABLE AI Content (that Google Loves)
Here's a video by Matt Diggity explaining how to make undetectable AI content that could avoid any Google penalty.
Frequently asked questions
What's the most accurate AI content detector?
Originality has proven over and over again that it is very reliable and has times without number proven to be better than all the other content detecting tool that is currently available in the online market space as its plagiarism detection skill is the best currently and also scanning are very deep such that it doesn't permit content to appear twice, every word that undergoes it scanning is always accurately unplagiarized. 
Is there an AI content detector?
Yes, there are lots of AI content detection tools that any online user can use for its course. 
Don't Miss: Best AI Social Media Post Generators Every Content Creator Needs
Wrapping Up On The Best AI Content Detection Tools
AI written content is becoming more popular within the marketing, SEO and online industries, and as a technology.  Checking for originality will likely be a huge part of content creation in the future, so it's a great idea to explore these tools and integrate them into your workflow.
AI content is often dry and factual. It usually sounds like trigonometry married history and had a baby, and the baby sold its soul to a robot who converted it into binary code and blogged about it.